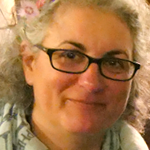 Jill M. Hall, Director Religious Education

Jill Hall came to Unitarian Universalism as a young adult and became involved in Religious Education/Exploration shortly thereafter. She has filled many different RE roles in the various congregations she has been involved in; leading Religious Exploration groups for children, youth and adults, providing nursery care, leading worship, storytelling, serving on the RE committee and as DRE for two different congregations. Jill finds that her own faith development is continually expanded, refined and challenged through her work with young UUs. Jill has been KUUC's DRE since 2014 and works in a local elementary school in special education. She lives in Keene with her husband, children and one very shaggy dog.
RE Calendar – June
The Soul Matters theme for June is Compassion.
All of KUUC's programming is being offered virtually — via YouTube (worship services) and Zoom ("coffee hour" conversations). See the main page for a link to the current virtual service. View our past virtual worship services here. Our Religious Exploration classes have also been suspended due to social distancing restrictions. We are offering resources and support for at-home religious learning and family worship via email. To be added to the distribution list for these resources, please contact DRE Jill Hall at
Resources for talking about race in your family
This blog post by "strivingshannon" cites a recent survey that only 6% of well-meaning white parents talk to their kids about race "often". The author lists the top 5 reasons (from her work with parents in Atlanta) why this is so. Among the reasons she listed the one that resonates most with me is "fear of getting it wrong." Her response to this is "you will." Which is why we need to keep educating ourselves, growing in our understanding, recommitting to the work, and trying again. I encourage you to read her whole post. Here are some resources from the UUA and BLUU (Black Lives of UU) to help you educate yourself, recommit to the work, and talk to your kids.
2015 article, Talk about Race: Starting the Conversation, by Aisha Hauser, MSW and long-time religious educator.
Race, Class and other Complexities resource list, from the "Growing Young Justice-Makers" section of the UUA website.
Family Discussion Suggestions: Identity and Race
Time for All Ages, June 14
I first came across today's story, Anansi and his Gifted Sons in Once Upon a Time: Stories to build character and prevent bullying by Elisa Pearmain. Ms. Pearmain has worked with the UUA on Tapestry of Faith curricula, including Moral Tales and Toolbox of Faith.
Here is some general information on Anansi, and here is a another version of Anansi and his sons, this one a Caldecott honor book by Gerald McDermott.
Our Whole Lives
Our Whole Lives (O.W.L.) is the values-based lifespan sexuality education curricula developed jointly by the UUA and UCC (United Church of Christ)*. KUUC offers the segment designed for youth in grades 7-9 (or homeschool equivalent) in alternate years and – next year is the year! Right now, we are awaiting the rescheduling of the facilitator training sessions. Once we know when our facilitators will be fully trained and ready to go, we will announce dates for the 2020-2021 session of O.W.L. Participant meetings are traditionally held on Sunday afternoons; the actual schedule is flexible and will be determined with input from the facilitators.
Description from the UUA website: "Honest, accurate information about sexuality changes lives. It dismantles stereotypes and assumptions, builds self-acceptance and self-esteem, fosters healthy relationships, improves decision making, and has the potential to save lives." (www.uua.org/re/owl) If you feel called to serve your community by facilitating this program, please contact Jill, Rev Michael, or Barbara Bryce (RE Committee chair). If you'd like more information before deciding, please check out the UUA O.W.L. info page.
Please contact Jill () with questions, for more information or to be added to the preliminary registration list. This class fills quickly.
*while the program was developed by two religious denominations, the curriculum is secular – no doctrine or dogma is included, just honest, factual information and the core values of self-worth, sexual health, responsibility and justice and inclusivity.
Elevator Speech
In November, the Neighboring Faiths group spent most of our time learning about the Church of Jesus Christ of the Latter-Day Saints (often called Mormons), the Jehovah's Witnesses, and Evangelical Christianity. For all these faiths, evangelism, or spreading the Christian gospel publicly and personally, is a central practice. We spent some time considering how we could respond to Christian evangelism with a statement of our own truth. What might be our own brief, honest, and personal description of the deep, wide, multi-faceted religion that is Unitarian Universalism? Some call this an "elevator speech" because it could be delivered in the time of an elevator ride. It takes many of us a lifetime to come up with an answer with which we feel comfortable. In this season of drawing inward, of contemplating what is important, what is meaningful, what is worthy, I invite you to spend some time considering how you might answer the questions, "What is Unitarian Universalism? What do UUs believe?"