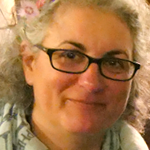 Jill M. Hall, Director Religious Education

Jill Hall came to Unitarian Universalism as a young adult and became involved in Religious Education/Exploration shortly thereafter. She has filled many different RE roles in the various congregations she has been involved in; leading Religious Exploration groups for children, youth and adults, providing nursery care, leading worship, storytelling, serving on the RE committee and as DRE for two different congregations. Jill finds that her own faith development is continually expanded, refined and challenged through her work with young UUs. Jill has been KUUC's DRE since 2014 and works in a local elementary school in special education. She lives in Keene with her husband, three children and one very shaggy dog.
RE Calendar – December-January
The Soul Matters theme for this month is Awe. In the Sunday morning RE classes, we will be talking about goose bumps, and what inspires us to experience them. In the Neighboring Faiths afternoon group for middle school age youth we will look at Islam and Humanism. Adult helpers are always needed. For details, please contact Jill at
Sunday, December 22:
Children will remain in the sanctuary this morning for our Multigenerational Solstice Celebration.
Tuesday, December 24:
7 P.M. Our Christmas Eve service will include the No Rehearsal Christmas Pageant, a beloved KUUC tradition. Come early for the Wassail, hosted by the Board of Trustees, which begins at 6 P.M.
Sunday, December 29:
Children remain in the sanctuary. There is No RE. Jill will be off today.
The Soul Matters theme for January is Integrity.
Sunday, January 5:
Children begin in the sanctuary and are sung out to class.
2:30-4:30 Neighboring Faiths group meets in the Alliance Room. Today's topic is the origins of Judaism.
Sunday, January 12:
Children begin in the sanctuary and are sung out to class in the Blocks room with Deborah Dunnell.
11:30-1pm Religious Exploration Committee meets in the Alliance Room. All are welcome.
Sunday, January 19:
Children begin in the sanctuary and are sung out to a group activity.
2:30-4:30 Neighboring Faiths group meets in the Alliance Room. The topic is Judaism, the People of the Law.
Sunday, January 26:
There is no RE this morning.
Elevator Speech
In November, the Neighboring Faiths group spent most of our time learning about the Church of Jesus Christ of the Latter-Day Saints (often called Mormons), the Jehovah's Witnesses, and Evangelical Christianity. For all these faiths, evangelism, or spreading the Christian gospel publicly and personally, is a central practice. We spent some time considering how we could respond to Christian evangelism with a statement of our own truth. What might be our own brief, honest, and personal description of the deep, wide, multi-faceted religion that is Unitarian Universalism? Some call this an "elevator speech" because it could be delivered in the time of an elevator ride. It takes many of us a lifetime to come up with an answer with which we feel comfortable. In this season of drawing inward, of contemplating what is important, what is meaningful, what is worthy, I invite you to spend some time considering how you might answer the questions, "What is Unitarian Universalism? What do UUs believe?"
Neighboring Faiths
This autumn, Keene UU Church (KUUC) is offering middle school youth the opportunity to engage personally with the faith traditions in our community and to go beyond tolerance of religious diversity to a deeper understanding and appreciation of multiculturalism. Participants will learn about world religions, their origins, beliefs and practices, and engage with faiths by visiting houses of worship or hosting conversations with believers. By combining two established curricula, Neighboring Faiths (UUA, 1997) and Building Bridges (Tapestry of Faith, 2013), the adult facilitators of this group will support the participants in choosing faiths they would like to explore (learn about) and engage with (visit or host representatives). Program goals for participants include increasing knowledge of religions practiced around the world and locally; reflecting on what is unique and universal in religious experience; exploring their own values and deepening their spiritual search; and fostering acceptance of religious diversity and the diversity of followers within individual religions. While this is a Unitarian Universalist program, participants from other faith traditions or no current faith tradition are all welcome. Differences of experience and opinion will be respected, and participants will practice both connecting with others and disagreeing with respect and civility.
This program is free to members of KUUC; community members are requested to provide a nominal fee of $50 to cover materials and facilitator training. If this fee is a hardship, a waiver may be obtained by communicating with Rev. Michael F Hall, minister at KUUC or Jill Hall, Director of Religious Exploration.
Interested parents/guardians are invited to an informational meeting at KUUC, 69 Washington St, on Sunday, September 22 at 2:30pm, where you will be able to experience the curriculum, ask questions, and provide input about which religions you are hoping the group will explore. Attendance is not required but every participant must have a signed permission form indicating parental understanding of the time commitments and that there will be off-site trips to visit other faith communities. Please contact Jill Hall at with any questions, for more information including a schedule of meetings, or to let me know you are coming to the parent meeting.
Adults Needed
Offering the middle school curriculum Neighboring Faiths is part of fulfilling KUUC's mission of creating compassionate community. In order to comply with our Safe Congregations guidelines this group needs an adult helper for each meeting that is at KUUC (15 total, from late September through early April), and adult drivers and chaperones for 4-6 off-site visits to houses of worship or other sacred sites. Opportunities include:
Volunteer as adult helper for the entire course or for 3-5 individual meetings.
Volunteer as IT support for the program; troubleshoot the church's wifi/internet access and support participants using the chUUrchcraft app, either for the entire course or for specific meetings.
Volunteer as admin support – call/email other congregations to arrange for our visit or for representative to meet with us here at KUUC. This job could be shared among 2 or 3 people or taken on by one person.
Volunteer to drive and chaperone off-site visits.
Volunteer to lead one or more sessions, integrating the curriculums (Neighboring Faiths, Building Bridges and chUUrchcraft), leading activities, moderating discussions.
For more information, to talk about these opportunities, suggest other ways to help, or to sign up, please email Jill at